Managing Multiple WordPress Sites is Easy Now
Though at the outset, installing a new WordPress copy every time you set up a new site may look like a simple solution, right from the logging in to the update of themes, plugins, and the main core, management of multiple sites can be quite frustrating.  Upgrading a site whenever a new update of WordPress is introduced will be too much trouble to manage on your own. The entire thing can get out of hand easily. So what is the solution?
The WordPress 3.0 launch has paved the way for a network creation which can solve your dilemma to an extent. Sometimes, this is not enough to cover all you want to do. You need to look at other easier and effective options out there like the WP management services.
WP management basically involves taking care of
Content management, installation of themes, and plugins from a single dashboard
Update all WP features with a single click
Backup creation and transfer to server or cloud storage through FTP
Cloning and migration of sites within the network
Monitoring users on the network
With management of such features being capably handled by the services, you can save time and effort. Though some of the services are free, for premium features you need to pay, which is not much considering the benefits you get.
At present, there are several options that help you manage multiple WP sites from a single location. Here are some good choices and a brief look at their advantages.
This is a free service that provides some essential management services. The basic features you get with this service are
Ability to look at the WP versions, plugins, and themes present in your site and get regular updates on them
Easy update of features from the dashboard directly
Responsive design enabling access from your mobile
Back up creation via zip file archive
Instant notifications when one of the sites are not reachable or in trouble
The disadvantages include inability to do
Direct posting from the WP Remote dashboard
Migrations and deployment of new sites or installations
This has features like managing Joomla, Drupal, and also phpBB multiple sites in addition to management of multiple WP sites. You get it free for the first five sites, after which you need to pay about $9.90 for ten sites per month and $64.90 for 200 sites per month.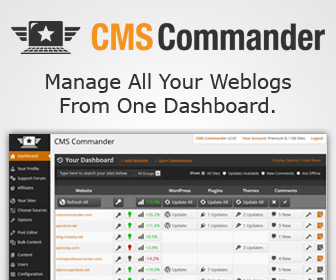 What you get with CMS?
Update and manage plugins, themes
Automatic backup creation
Management of WP settings, users' categories, posts, comments, and automatic affiliate link insertion
The bulk posting and automatic blogging feature present is not given for the free accounts.
Recommended:- 1St Giveaway – Free WordPress Installation Service and Support
This lets you manage all your WP sites from a central location. Instant backup with recovery and bulk updating are some of the vital features present. You get the service free for one site and the paid subscription is of 6 different models where the prices range from $1.60 to $160 per month for 5 to 500 sites respectively.
Features you find here are:
Easy single click administration from one central dashboard
Automatic installation of plugin and themes you prefer
Inbuilt WordPress installer
Backup and restoration on demand
The basic features are free in this service, but for the premium features and upgrades like automatic backups, you need to stand some expenses. The basic features are quite good and are sufficient to manage without going for the paid ones. These include:
Installation and management of themes and plugins
Latest WP version updates available with single click
Backup restoration, deletion, and download present
Premium features include
Automated scheduled backups
Use your company name in the Infinite WP plugin or hide the plugin
WP Pipeline is a WordPress plugin that lets you manage multiple websites. It has some good features such as the ability to contain certain websites into groups, user management, backups, and easy updating.
This has an easy back scheduling, upgrading, and cloning feature and you can add more features you require by purchasing the extensions. You can control 5 sites for free and the plugins' features are the same for the free and premium plugins. Prices range from $24 for 25 sites to $49 for 100 sites and $79 for unlimited sites.
Managing all your WordPress sites on your own is highly impractical. A streamlined and effective management will save you time and money. Almost all the services outlined here offer a free trial period or free account. You can try out the ones you like best and see if they are feasible options before you purchase them. However, the user interface and functionality of the services should be looked over closely before you decide.